How It Works:
Two crews are assigned to the 12-hour day shift pattern (crews A and B). These two crews provide coverage twelve hours a day, seven days a week.
A single night shift crew works nights Monday through Friday.
Together, these three crews will provide 124 hours of production every week.
There is a 4-hour window every weekday for maintenance to have access to the equipment. There are also two 12-hour maintenance periods on the weekends.
This type of schedule allows a traditional 3-crew schedule to build maintenance into the schedule. Each schedule offers something for the workforce. The 12-hour days give the employees seventy-eight more days off than a Monday-Friday schedule. They also have every other weekend off as a 3-day weekend. The night shift crew may be on nights, but it gets every weekend off.
Production can be increased by extending the 8-hour night shifts to 9 or even 10-hour shifts. The 12-hour maintenance periods on the weekends can also be used for extra production by using overtime.
This schedule will allow an operation to flex between 124 hours of production and 44 hours of maintenance a week up to 168 hours of production and no maintenance.
In the long run, a 168-hour production level should be covered by four crews. The β€œflexing" of this schedule allows for short term high production demands by sacrificing maintenance.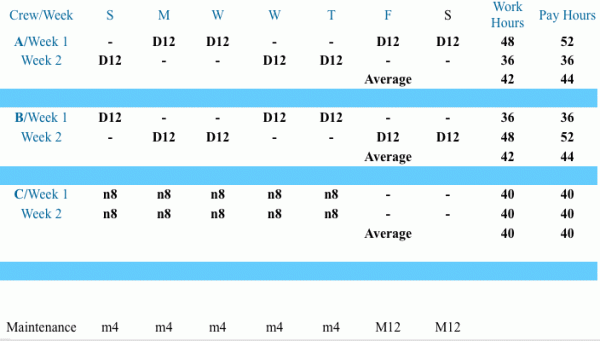 D12 is a 12-hour day shift (7:00 am to 7:00 pm)
n8 is an 8-hour night shift (11:00 pm to 7:00 am)
m4 is a 4-hour maintenance period (7:00 pm to 11:00 pm)
M12 is a 12-hour maintenance period (7:00 pm to 7:00 am)
Shift Schedule Parameters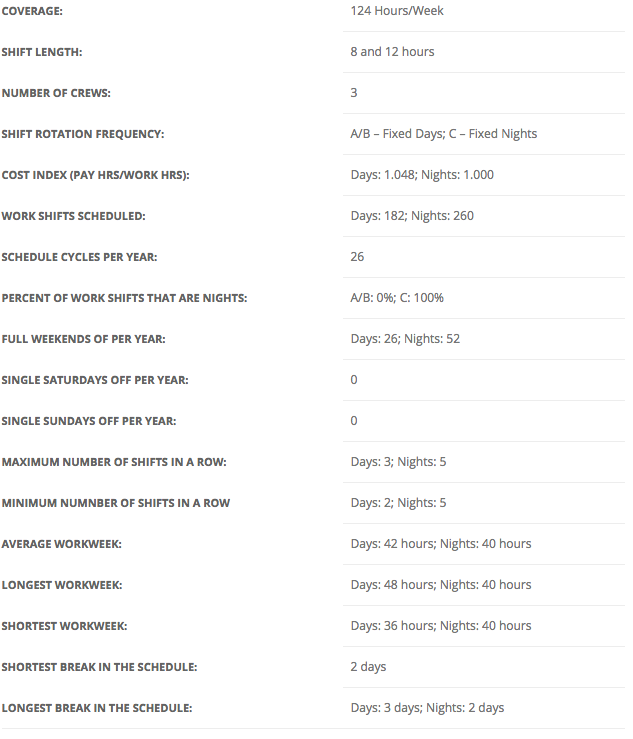 Business Issues
Fixed shifts can lead to skill imbalances between the crews. Senior employees tend to migrate to the day shifts while the newer employees are assigned to the less desirable shifts.
The crew concept allows supervisors to work the same schedule as their teams.
Communicating with the non-day shift crews can be challenging.
Employees are not exposed uniformly to the various operations of the facility. This can result in crews that are specialists rather than generalists. For example, the day shift may be very good at starting a process while the night shift is good at cleanup. This limits your flexibility as each crew can only do certain things.
Adaptation to non-day shifts is better on fixed shifts.
When one or more schedules are significantly worse than others, you can expect senior employees to migrate to the more desirable schedules and the newer employees will staff the less popular patterns.
Employee Issues
Covering the weekends with 12-hour shifts allows employees to have twice as many weekends off as they would have if they covered the weekends with 8-hour shifts.
Fixed shifts lend themselves well to adapting to the nighttime work hours.
Taking twenty-four hours of vacation at the right part of the schedule can yield seven consecutive days off.
For the day crews, half of the weekends are 3-day weekends off.
For the night crew, every weekend is scheduled off.
Call Us and We Can Help
Call or text us today atΒ (415) 763-5005Β to discuss your operations and how we can help you solve your shift work problems. You can also complete ourΒ contact formΒ and we will call you.