The purpose of the implementation package is to give the workforce as much information as possible so that they can make an informed schedule selection.
The Shift Schedule Implementation Package
Typically, the package includes: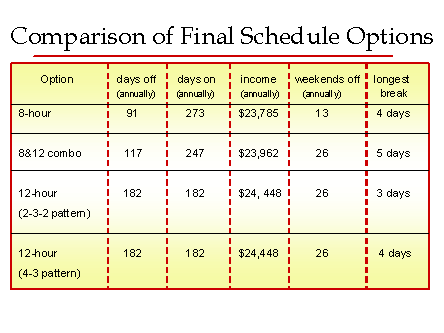 Sample Q&A
Question:Â When will the new schedule be implemented?
Answer:Â The new schedule will be implemented on Monday following the Labor Day holiday.
Question:Â How will the crew members be assigned to the new schedule?
Answer: A combination of skill sets, seniority, and employee preference will be used.  The most senior qualified employee will be given his or her first choice of crew assignment.  This rule will remain in effect up to the point where it looks like one of the crews will not be adequately staffed with the proper skills  If this happens, some of the higher-skilled employees may be assigned to a crew other than their first choice.  They will remain on the assigned crew until that crew's overall skill set is improved to the point where they can operate efficiently without the "assigned" personnel.
Two or three final schedule options. These options have been designed based on the needs of the business and employee preferences.
A written description of how each schedule option works.
Detailed explanations of any pay and work policies that will be affected by the new schedule. The following is a sample of several types of issues that may be covered:

Vacation
Shift differential
Holiday pay and holiday premium
Jury duty
Military leave
Sick pay
Overtime distribution

A chart comparing the income and day-off patterns of the various options. For example:
A section of the package is dedicated to Q&A. You can anticipate several of the questions that the workforce will have. This section addresses these questions before the rumor mill takes over. Typically, this section will have between 10 and 20 questions and their accompanying answers.
A Schedule Preference Form is included in the package. Employees fill out this form after they have had an opportunity to review the schedule options. Most employees will want to have a day or two to review schedule options in the package with their families and co-workers. The preference form may be very complicated or very simple, depending on how many questions the form is designed to address.
A sample Schedule Preference Form is shown below: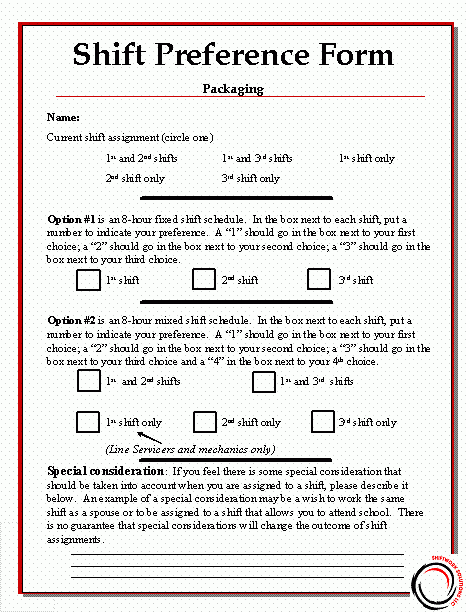 Call Us and We Can Help
Call or text us today at (415) 763-5005 to discuss your operations and how we can help you solve your shift work problems. You can also complete our contact form and we will call you.