By Bruce Oliver and Dan Capshaw, Shiftwork Solutions LLC
Many maintenance managers will tell you their workforce is different than other shift workers β€" that their attitudes and behaviors are not the same. Recognizing, understanding, and accounting for how maintenance personnel evaluates shift schedules are essential to finding a schedule that will satisfy their needs and give you the required coverage to meet your business needs.
When it comes to shift schedules, what makes maintenance workers unique? Using our database of over 20,000 employee surveys, we compared the responses of maintenance personnel with those of the average shift worker surveyed. The database includes information on the following topics:
Demographics
Health and alertness
Working conditions
Shift schedule features
Overtime
Let's look at the maintenance worker results for each of these categories and compare them to the overall shift worker results. If our assumption that maintenance workers are different is true, we should see some differences in the results.
Demographics
Almost 98% of the maintenance workers are male. This is a sharp contrast with other shift workers, 76% of whom are male. The maintenance field is clearly dominated by men. A graphic comparison of the two groups is shown in Figure 1.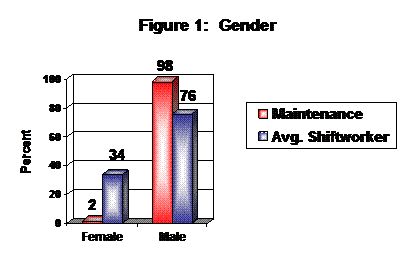 Maintenance workers have worked 43% longer in their current department than the average shift worker (8.6 years for maintenance vs. 6.0 years for the average shift worker). Unlike production workers who can quickly learn a new job in another department such as quality control or the warehouse, maintenance workers tend to stay in their specialized trade. They usually are paid more and spend more time working weekday day-shifts, which also may influence their reluctance to transfer to other departments.
This finding has two important implications for maintenance workers:
Maintenance personnel expects to stay in their jobs, possibly for their entire careers. If they are required to work on a schedule they don't like, they may see little opportunity to correct the schedule. This makes the stakes and consequently the emotions high when alternative schedules are considered. In fact, the shift schedule is so important that a substantial percentage of maintenance workers said they will quit their jobs before changing to a new shift schedule (24.7%).
Since maintenance skills are often transferable to other companies, maintenance workers are able to change jobs to another maintenance job in a different company. Losing people because of your schedule is expensive. Of course, this also means that an attractive schedule can be a very effective tool for recruiting and retaining the best maintenance personnel.
Health and Alertness
The opinions and preferences of maintenance workers and other shift workers are aligned when it comes to health and alertness. They have similar sleep patterns and habits (e.g. alarm clock usage and their hours of sleep while working various shifts are almost identical), and their self-reported alertness is similar.
Working Conditions
Maintenance workers also gave similar responses to those of the average shift worker on all facets of the work environment except the need for training. As shown in Figure 2, more maintenance personnel feel their employer doesn't train nearly enough (65.8% from maintenance vs. 55.3% of the average shift workers). Maintenance employees are well aware that training can make their jobs faster and easier. They also often believe that more training for employees in other parts of the organization will reduce the number of breakdowns.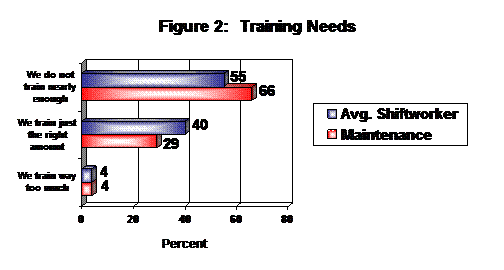 Shift Schedule Features
There were only a few schedule features where maintenance workers' preferences differed from the average shift worker. As shown in Figure 3, a larger percentage of maintenance people prefer fixed shifts (88.3% from maintenance vs. 82.9% among all shift workers). Most maintenance workers are assigned to weekday day-shift since most preventative maintenance work is done during this time. Minimal staffing is needed for corrective maintenance on nights and weekends. The likelihood of maintenance workers getting the shift they want is pretty high, so it is understandable that more of them want fixed shifts.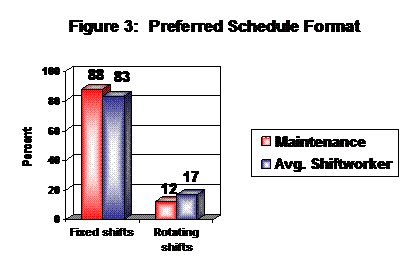 Maintenance personnel gave lower ratings to the importance of keeping their current crew members together (maintenance = 3.11 vs. average shift worker = 3.71 on a 5-point scale where 1 is lowest and 5 is the highest possible rating). Unlike other job functions that require extensive teamwork, maintenance work is given to individuals or small groups. Maintenance work often requires a high degree of independence, making the individual team member composition less important than the team skill composition is to the success of the organization.
Overtime
One interesting difference noted between maintenance personnel and the average shift workers is their preference for time-off instead of overtime. When asked, β€œIf you had to choose between more time-off or more overtime, what would you choose?" 70% of the maintenance workers said β€œMore time-off" in contrast with 61.4% of the average shift workers. This is shown in Figure 4.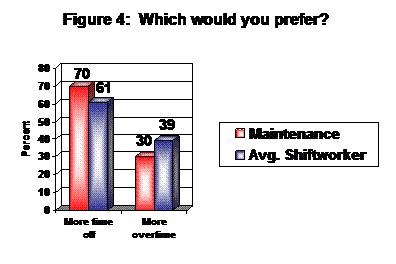 Maintenance personnel are paid more than other shift workers, so they are not as dependent on overtime. In addition, maintenance workers work most of their overtime on weekends, since many companies push the maintenance work to the weekends. Since weekends are the most desirable time off, it is not surprising that maintenance personnel will choose to have more time off instead of more overtime. To them, asking if you want more overtime is like asking if you want fewer weekends off.
Conclusions
The survey results reveal only a few differences between maintenance workers and the general shiftwork population. The most significant difference is the lack of mobility within a company coupled with the high mobility to move outside the company. Shift schedules are always important to shift workers, but if the only apparent choice to improve a schedule is to change companies, the importance to maintenance personnel is even greater. The nature of the job attracts strong, independent personalities, so when emotions run strong, discussions can be intense. This passionate response to schedule changes explains why so many managers perceive maintenance workers to be significantly different than other shift workers – even though their overall schedule preferences are very similar.
Since maintenance work can occur anywhere in the facility, maintenance workers have many opportunities to come in contact with employees from other departments. That puts them in a perfect position to support communications along the grapevine. It is therefore incumbent on the entire management team not only to be aware of the maintenance team's differences but also to understand their unique and valuable roles in the organization and use shift schedules that work well for their maintenance team while still meeting their business needs.
Call Us and We Can Help
Call or text us today atΒ (415) 763-5005Β to discuss your operations and how we can help you solve your shift work problems. You can also complete ourΒ contact formΒ and we will call you.