Many organizations experience high levels of overtime at some point in their life cycle. The key question is whether this is a temporary or permanent situation. If it is temporary or seasonal, the organization may decide to adopt a new schedule that has high levels of overtime built right into the schedule. An example is shown below. This is often referred to as a 4-on-2-off schedule.
Four-on, Two-off 12-hour Schedule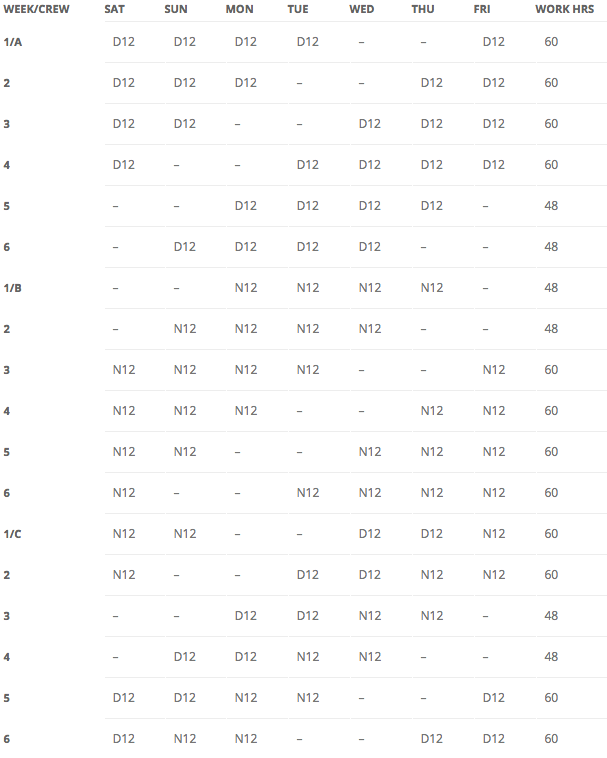 N=Last
D12 is a 12-hour day shift (7:00 a.m. to 7:00 p.m.)
N12 is a 12-hour night shift (7:00 p.m. to 7:00 a.m.)
How it Works:
This is a 6-week, semi-fixed shift schedule operated by three crews. It is β€œsemi-fixed" because two crews work fixed shifts while the third crew works rotating shifts. Crew A works day shift only, Crew B works night shift only, and Crew C works a rapidly rotating schedule. When the schedule first starts, the crews are assigned to specific weeks in the cycle. For example, each crew is assigned to start in week 1. At the end of each week, the crews rotate down to the next week in the cycle. When a crew completes the 6th week, they rotate up to week 1.
Shift Schedule Parameters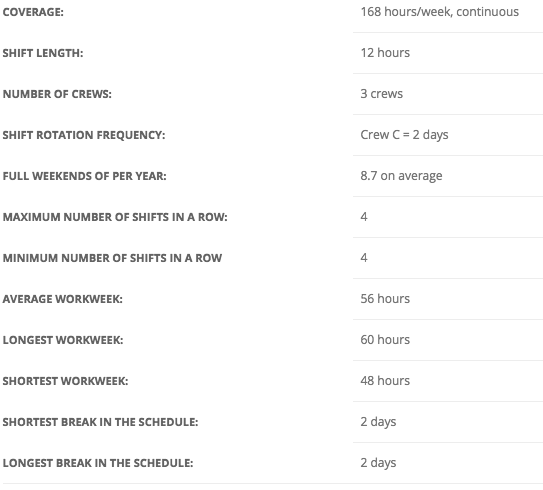 Case Study
If the high overtime is a long-term situation, other solutions may be called for. A good example is a manufacturing facility we worked with. The workforce was exhausted and costs were rising, while competitive pressures were shaving margins. The situation became acute for the manufacturing plant when the new sales forecast projected continued growth in product demand. Working with plant management we found:
Product demand was seasonal, with demand levels 20% higher during the peak seasons – these peaks could be handled with overtime if other sources of overtime were controlled.
The plant was 15% understaffed for the number of lines that needed to be run.
Regional unemployment levels were very low, making recruiting personnel difficult.
Productivity was hampered by weekly startups and shutdowns, obsolete equipment, and fatigued employees.
In this client'ℒs industry, continuous operations were the norm. This allows companies to eliminate costly (and unnecessary) startups and shutdowns. Operating the plant continuously and implementing the best shiftwork solution had the following results:
Increased the scheduled capacity of all available lines by 40%.
Allowed the most modern and productive lines to handle the growing product demands.
Idled obsolete lines for the majority of the year, while keeping them available for peak demand periods.
Improved employee productivity relieved the pressure to hire additional personnel.
Because productivity improved, staffing requirements were lowered and the need for unscheduled overtime was minimized β€" unscheduled overtime was once again a relief valve for addressing unusually high workloads.
Unscheduled overtime costs were brought back within the budgeted levels.
Through extensive interaction with the workforce, a continuous shiftwork solution was implemented that allowed employees to:
Increase their guaranteed compensation by 7.5% with built-in overtime while increasing payroll costs by only 1% – this increased cost was paid for many times over by the improved shiftwork solution.
Increase their days off from 104/year to 182/year.
Work a schedule that they felt best met their personal needs while keeping the company competitive.
The business bottom line was an improved product cost structure without significant capital investment using a shiftwork solution chosen by the employees.
Call Us and We Can Help
Call or text us today atΒ (415) 763-5005Β to discuss your operations and how we can help you solve your shift work problems. You can also complete ourΒ contact formΒ and we will call you.