Slow-Rotating Schedules
82% of the shift workers we've surveyed prefer fixed or β€œsteady" shifts over rotating shifts. Since fixed shifts create a number of issues for the organization (see Fixed or Rotating Shifts), they are not always available as an option. If there is little hope of ever getting a fixed shift schedule, workers or their managers may search for a slow-rotating schedule to replace their current schedule. Since most 8-hour shift schedules rotate on a weekly basis, slow-rotating schedules are pretty much confined to 12-hour shifts.
Long-Break Schedules
64% of the shift workers we've surveyed say they would be willing to work several days in a row and then take a long break (as opposed to working a few days in a row and then taking a short break). With 8-hour shifts, this generally means working 7 shifts in a row. Doing so will provide a 3 or 4-day weekend off every four weeks. Really long breaks (e.g., 7 or 8 consecutive days) are only available with 12-hour shift schedules.
The Schedule
If an organization is willing to adopt 12-hour shifts, it is possible to combine both of these desirable features in a single schedule. The rate of rotation is once every four weeks, though the schedule can be modified to rotate any multiple of four weeks (e.g., 8, 12, 16, etc.) The long-break is 7 consecutive days and occurs every four weeks.
The schedule requires 8 crews. If your current schedule uses four crews, the existing crews would have to be split in half. This might be difficult for smaller organizations or groups composed of specialized job functions that can't easily be split into eight sub-groups. But it is the only way to achieve both schedule features.
The schedule's work pattern is shown below:
Slow Rotating, Long-Break Schedule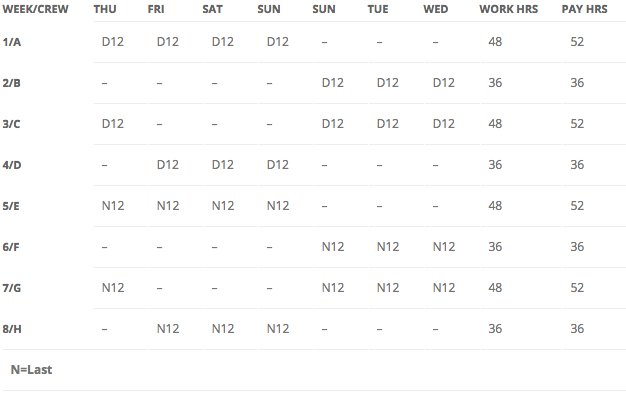 D12 is a 12-hour day shift (7:00 a.m. to 7:00 p.m.)
N12 is a 12-hour night shift (7:00 p.m. to 7:00 a.m.)
How it Works:
This is an 8-week, rotating schedule operated by eight half-crews. When the schedule first starts, the crews are assigned to specific weeks in the cycle. For example, crew A is assigned to start in week 1 and crew B is assigned to start in week 2, etc. At the end of each week, the crews rotate down to the next week in the cycle. When a crew completes the 8th week, they rotate up to week 1.
Shift Schedule Parameters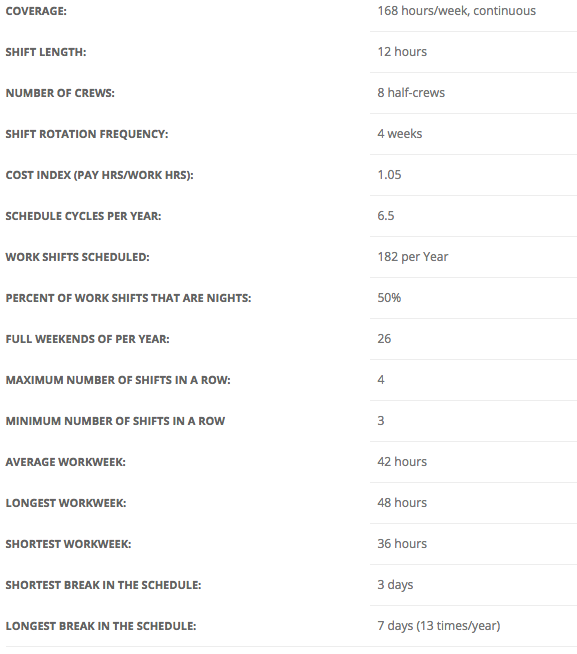 Business Issues
Click here for more information on shift length issues.
Click here for more information on fixed vs. rotating shifts.
The more days off in a row employee have, the greater the communication burden becomes. A lot can change at a facility in the 7 days that a crew will be off.
Communication between day-workers and shift workers is enhanced because all shift workers get the opportunity to work someday shifts.
The crew concept allows supervisors to work the same schedule as their teams.
Rotating schedules are more likely to have balanced skills on all crews.
Employees rotate through all of the hours in a day and are thus exposed to a more rounded set of operating conditions. No crew becomes a specialist at the exclusion of learning other tasks.
Employee Issues
Working four 12-hour shifts in a row can be tiring.
Pay will vary from week to week.
Half of the weekends are scheduled off.
Four night shifts in a row give the shift workers a chance to adjust to the night shift.
There is a 7-day break, once every four weeks.
Call Us and We Can Help
Call or text us today at (415) 858-8585 to discuss your operations and how we can help you solve your shift work problems. You can also complete our contact form and we will call you.