Operators and Sanitors should be the same people. The sanitation process associate with all food manufacturing processes is often a time-thief. It takes away from valuable production time. Many such operations will have a separate sanitation crew that specializes in sanitation but is not skilled or staffed to run the lines. This has two negative impacts. First, the sanitation crew needs a regular schedule, and this is often accommodated by shutting down for an entire shift to let them come in and do their job. In such cases, it is possible to complete the sanitation process in a partial shift but is metered across an entire shift by using fewer sanitors. The result is that they may be sanitizing about only 16 hours of runtime when they could run 24 or 40 hours or more without needing to sanitize. The second negative impact is that if sanitation finishes early, there are no operators present to run the equipment; lines sit idle until the next shift starts. If operators are sanitors, you can run for as long as you want as there is no longer a designated sanitation shift. Also, when sanitation is needed, you can perform using an entire production crew and then start right back up immediately.
Do not overstaff. From a labor cost perspective, there is only one number that matters – Adverse Cost. This is the additional cost you pay for not being perfectly staffed. If you are perfectly staffed, this cost is zero. If you are understaffed and have to pay overtime, the Adverse Cost is the difference between your lowest cost option (paid when perfectly staffed) and the cost of overtime. Since overtime is about 5% to 10% more costly than straight time, your adverse cost is at extra 5% to 10% you had to pay because you were understaffed. If you are overstaffed, the Adverse Cost is 100% of the cost of that labor since the perfect staffing would have been zero as the position need not have been filled at all. Thus, the cost of overstaffing can be an order of magnitude greater than the cost of understaffing.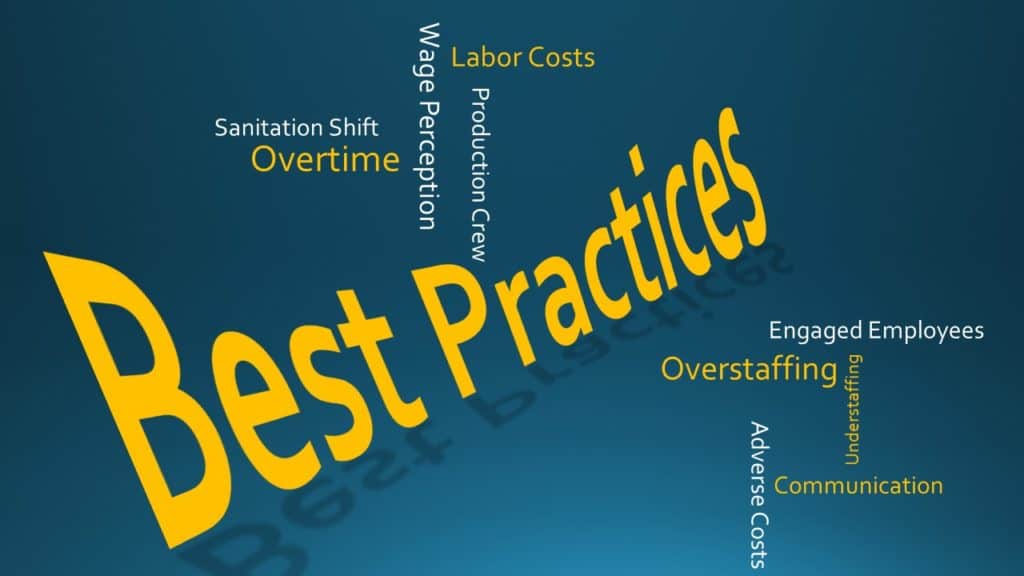 Listen carefully for the term "unfair". This word has a far different connotation than say, "I am unhappy." When an employee says, "unfair" they are starting to take a particular circumstance and making it personal. People will complain if they are unhappy. They will quit if they feel they are being treated unfairly.
Perception matters more than reality. People respond to conditions as they believe them to exist. Whether they exist or not is unimportant. Pay is a good example of this. If employees are the best paid in the area and have the best compensation package around, they will still perform as if they are underpaid if they believe they are underpaid. In other words, they will underperform because of perception. The cure for this is open communications.
20% of your workforce will work all the overtime you can give them. This is an extremely useful fact. So many companies struggle with overtime; generally having to pass out more than the workforce is willing to take on. However, if you have a fixed amount of overtime and can funnel it to people that want it, you will end up forcing less on those that don't. It's often a tendency to think that complaints about too much overtime means that everyone is complaining. Knowing this is not the case will allow you to temper your response by taking action to lower overall overtime without eliminating it. High overtime employees have a symbiotic relationship with a company. The company provides the overtime hours and the employee gladly provides the needed coverage. It will serve you well to keep these high overtime employees satisfied so they are there when you need them.
This is continued from Part 1 of Best Practices.
Call Us and find out how we can help you optimize your shift work architecture.
Call or text us today at (415) 763-5005 to discuss your operations and how we can help you solve your shift work problems. You can also complete our contact form and we will call you.