This is the fourth and final post in a series of four posts regarding 6-day schedules.  Here are the links to 6-day schedules (part 1), 6-day  schedules (part 2) and 6-day schedules (part 3).
In this post, we will look at two extremes when it comes to covering 6 days.  One uses extra staffing to cover 6 days with 40-hour workweeks.  The other uses traditional staffing for a 48-hour workweek but has a few 12-hour shifts to give an occasional weekend off.
First, let's consider a schedule that covers 6 days with 40-hour workweeks.  This is more complicated than you might think.  Why?  Well, there are 144 hours in a 6-day period.  If a crew is worth 40 hours, then you would need 3.6 crews to provide coverage (144/40=3.6).
This is accomplished by having each of your three 8-hour crews being 20% larger than the number of people you expect to show up each day.  In this way, one out of every 6 people can be off on any given day (except Sunday when everyone is off).
Here is what the schedule looks like: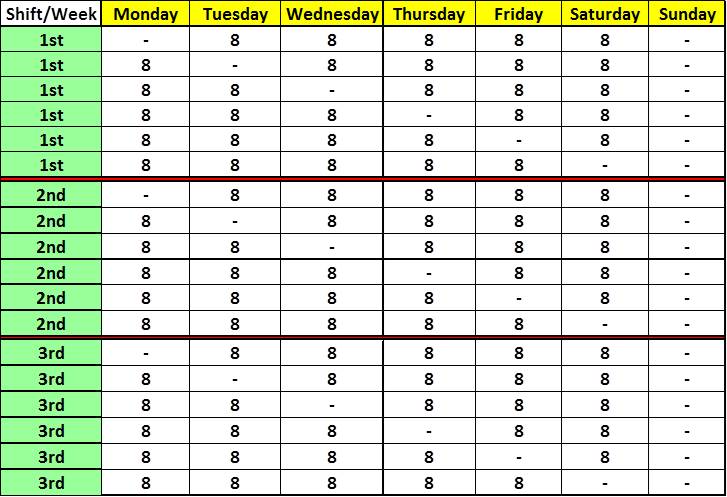 You will notice that to have 5 people show up on any given day, you need to have 6 people assigned with one of those 6 being off on that day.
First, the good news about this schedule.  Everyone gets Sunday off plus one other day that week.  This should increase alertness (compared to the alternative of only getting Sunday off and no others during the week).  That's about it as far as the good news goes.
There are several problems:
Supervisors cannot match their crews unless they work all 6 days.  If they also take a day off, then provisions must be made to cover for their open position.
People like two days off but generally prefer then to be two days off together.  Most shift workers will place a low value on having, for example, Tuesday off as their second day off that week.
The staffing requirement must be a multiple of 5.  This schedule works well if you need 15 or 375 people, but it will not work if you need 7 or 18 people.
Night shift alertness will suffer as night shift people lose some of their "night time adjustment" during their day off.
Cross-training is required since every combination of 5 out of 6 must represent all of the skills needed to get the job done.
Twice every 6 weeks there are "split workdays".  This is where they are off the day(s) before and the day(s) after a single day of work.  Shift workers will quickly recognize that these solitary days are good days to feel…maybe a little too sick to come into work.
Companies ofter go to this type of schedule in an attempt to avoid the "high cost" of overtime; failing to realize that overtime and straight time are generally "cost equal".
Onward…
This next schedule is an attempt to keep things simple and yet, still, give the employees a full weekend off once every three weeks.  "Keeping things simple" basically says, work everyone for 6 days in a row, all 8-hour shifts.  The workforce might not like this.  Alertness, safety, and productivity will suffer; but it's "simple."
Now to get a full weekend off with the smallest departure from "simple" you must work 12-hour shifts on two out of every three weekends.  The third weekend is off.
Here is the schedule:

This schedule is only popular among those that place a very high value on full weekends off.  Working 6 days in a row is hard enough.  This schedule not only calls for that, but it makes one of those 6 days, a 12-hour day.  The result is a full weekend off once every three weeks.
This is probably not a sustainable schedule for more workplaces.  However, in the short run, it may be just what you need.
Call Us and We Can Help
Call or text us today at (415) 763-5005 to discuss your operations and how we can help you solve your shift work problems. You can also complete our contact form and we will call you.